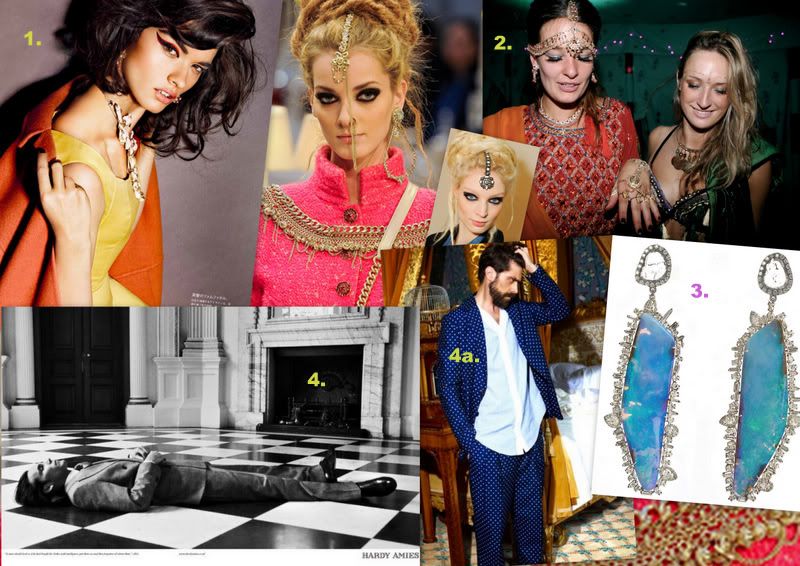 A COCKTAIL OF THINGS WHICH HAVE BEEN ON MY MIND THIS WEEK.
Crystal Renn for Muse magazine

(1). So plus-sized model Crystal Renn is certainly not plus-sized anymore, but so what? She looks fabulous. Her shoot with Matt Irwin for Muse mag has me reaching for lashings of black liquid eyeliner - more than ever. //

Bollywood jewellry, in particular tikas,

the headpiece worn on the forehead (2) as seen at Chanel's Arts et Metiers pre-fall show, and fêted for some time by yours truly. I'm hoping to find some Indian stores in Paris so I can add to my collection. // These incredible

opal and crystal earrings

(3) by Kimberly MacDonald. // This week I was confirmed to cover the menswear shows in Paris 18th-22nd January, which I'm thrilled about. However,

menswear is not something I have thought much about in recent times

, so I am looking forward into getting into some heavy research on the subject before the shows. I am always drawn back to the Hardy Amies quote :

"A man should look as if he had bought his clothes with intelligence, put them on with care, and then forgotten all about them."

The A/W 2010 campaign (4) was on my wall at university. My first exciting discovery was that of

British label Casely-Hayford

(4a.), whose lookbook featuring country house libraries and polka-dot pyjama suits has me looking forward to catching their new season when they show in Paris this month.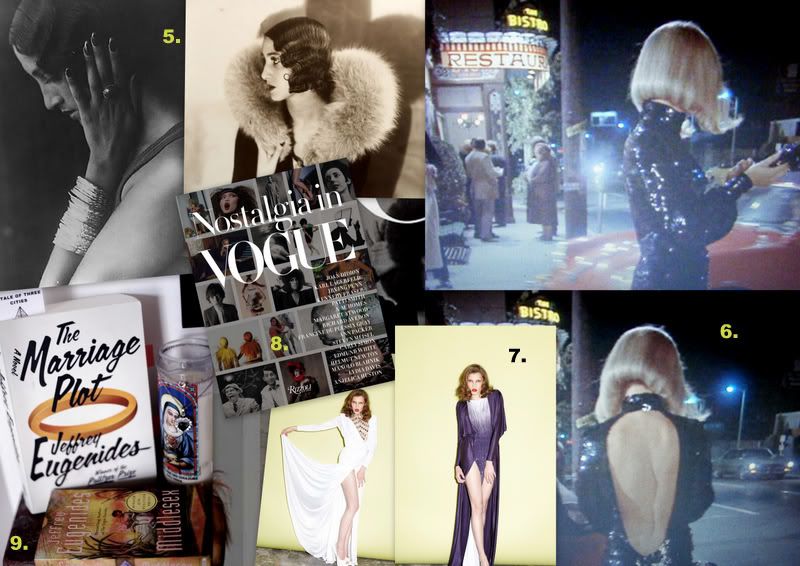 Renée Perle

(5) , muse and lover of Romanian heritage to photographer

Jacques Henri Lartigue in the 1930s. I always think that the 21st century is such a non-event for hair. The 'hair-do' simply doesn't exist. And yet, from the waved silhouettes of the jazz age to the beehives, set-and-perms of the 50s and 60s, and the power-perms of the 80s, not to mention the dedicated hairstyles of centuries before, hair has always been such a BIG (literally) deal. What happened? If I can't take inspiration from her hair, then I will from her immaculate oval manicure, and shaped fur stole. // More potential hair-related tales here, with

Julie Christie in the 1975 film Shampoo

, but let's stick with the dress (6.) for now. THE DRESS. I first came across this clip as a 15 year old insomniac, channel-flicking in the middle of the night and it has stuck with me. The sight of Julie Christie's navy sequin, floor length, but

backless down to here

dress gave me a style epiphany, and I have preaching the word of the high-necked, backless dress ever since. // The next best things after backless, has to be the floor-length slashed-to-the-thigh dress. Ultraglam gamma rays beaming down from

Louis Heal SS12

(7.) // If Julie Christie in Shampoo was my style epiphany, then that is the concept behind the book

Nostalgia in Vogue

(8), released last year on Rizzoli following the popular column in U.S. Vogue, featuring storytellers as varied as Patti Smith, Karl Lagerfeld and Edmund White, for whom a particular Vogue image stayed with them for life, and why.

The latest novel by Jeffrey Eugenides (9.) , The Marriage Plot

, brought a great deal of reassurance into my life. I drew multiple parallels with the main character Madeleine, with her disenchantment with her English literature course, and her struggles bearing witness to a manic depressive. As with all of Eugenides' novels, the narrative is written with ringing clarity,sensitivity and hauntingly beautiful simplicity. A must-read for 2012, or any year.