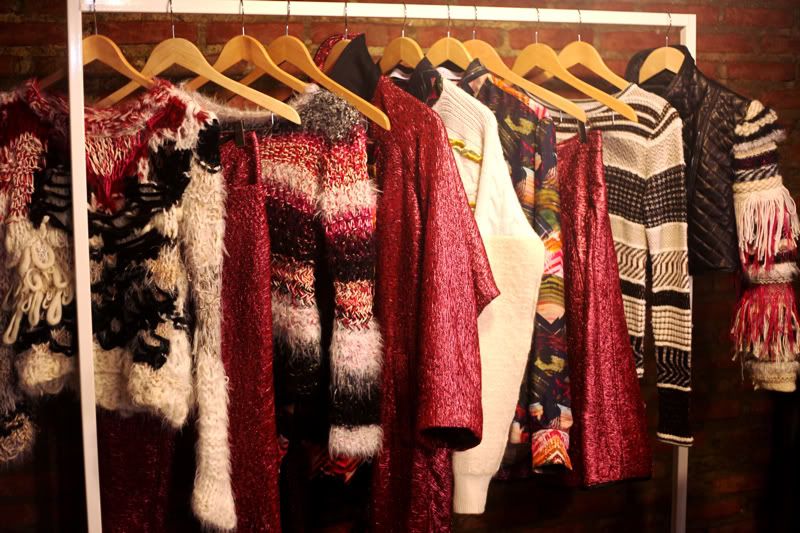 James Long womenswear 12-13 at the London Showrooms in Paris
Call it what you will : the Downton effect, Diamond Jubilee influences or simply a post-recession neo romance explosion, but the current fashion mood leaves no hiding place for minimalists.

When I went to visit the London Showrooms in Paris last weekend to 'meet' the James Long and Mary Katrantzou A/W 12-13 collections, I went around blessing each handcrafted piece as if at an altar. 'My time has come' I almost whispered aloud, 'this is my time'. A self-diagnosed maximalist, the more extravagant the dress, the better. The opulence in the beadwork, embroideries and textures cast in these rich colours really hark back to a time when clothing was called 'costume', and for good reason.
I'm trying very hard to think of a season in my living fashion memory when things came close to being even nearly as opulent, and I'm failing. We're all familiar with the royal portraits of duchesses, French, English, Spanish... simply dripping in finery. If you were fortunate enough to be born the right side of the palace gates form the 15th-19th centuries, when you got dressed, you got dressed. You had to outshine your own furnishings for a start. Coasting through the Katrantzou, Long, Louis Vuitton, Prada and Miu Miu collections from this new season is almost like revisiting those royal portraits again,-complete with the velvets, brooches and gold buttons- just with shorter skirts and free of the persecuted corset.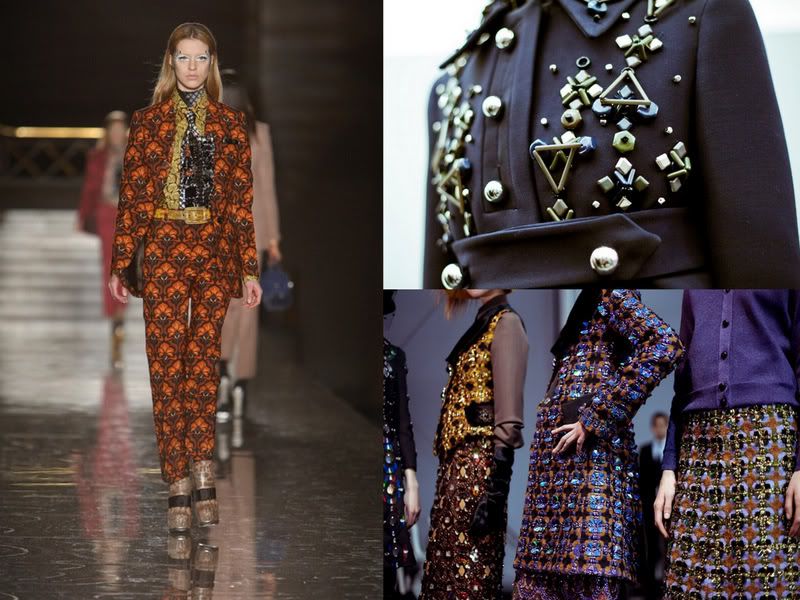 Clockwise from left: Miu Miu, Prada and Louis Vuitton. Photos by Morgan O'Donovan for Dazed Digital.
When I visited the Chateau of Fontainbleau this weekend, I immediately caught snatches of A/W Prada in the furnishings. The Chateau is about 40 minutes Southwest from Paris, and was the inspiration for the Chateau of Versailles. I liked the mélange of architectural styles, which you don't see at Versailles because it was all built in one go. The Kings of Fontainebleau however, commissioned their own extensions in the style of the day from the middle ages to the 19th Century. Napoleon was the last resident here : his bed is the tiny green and gold one at the very bottom of this page.
Mary Katrantzou drew her inspirations this season from gardens and stationary, but she is of course most famous for her inaugral trompe l'oeil 'inside-out-interiors' motifs, featuring sashed window and chandeliers. Even Louise Gray's silver studded breastplate wouldn't look out of place on a suit of armour. The point is, it's a great time to be dressing up like Marie Antoinette's furniture.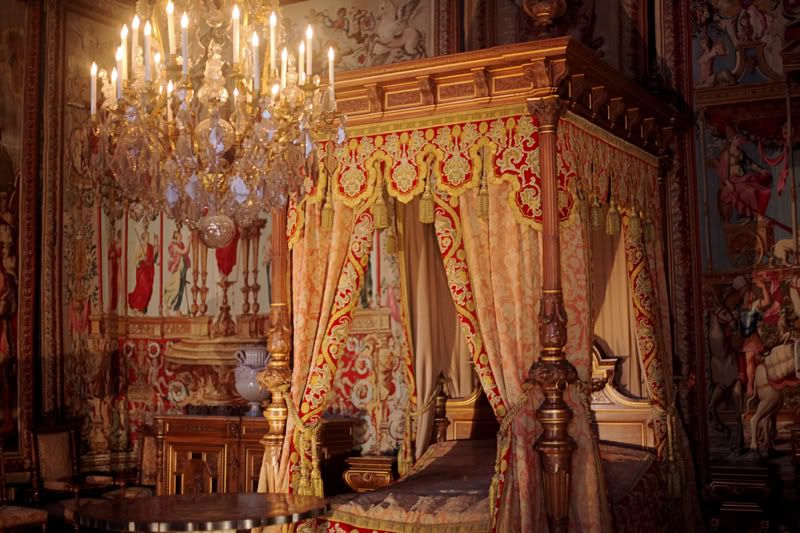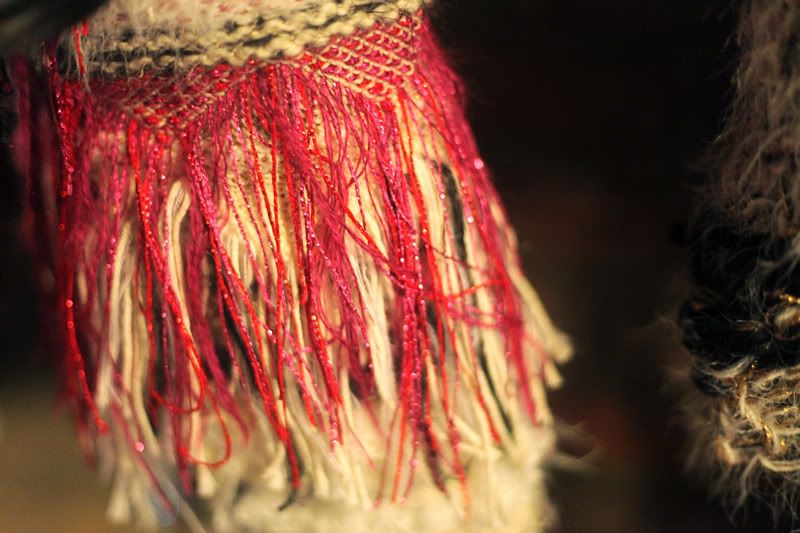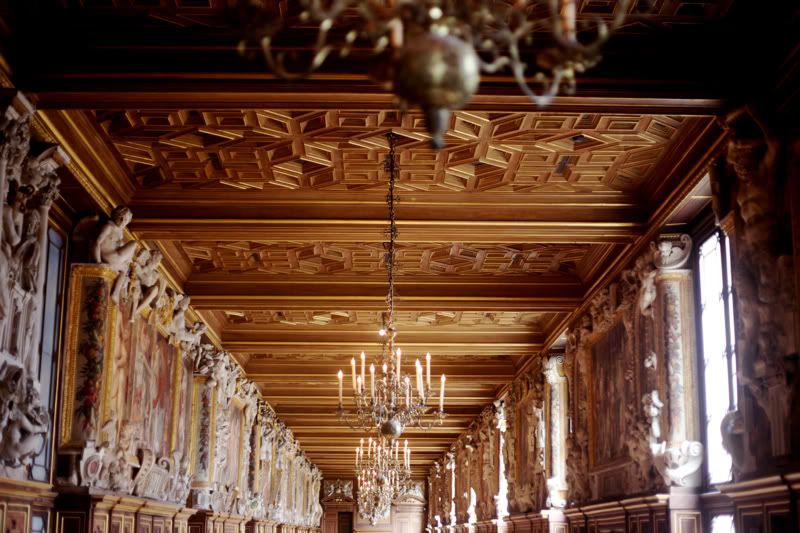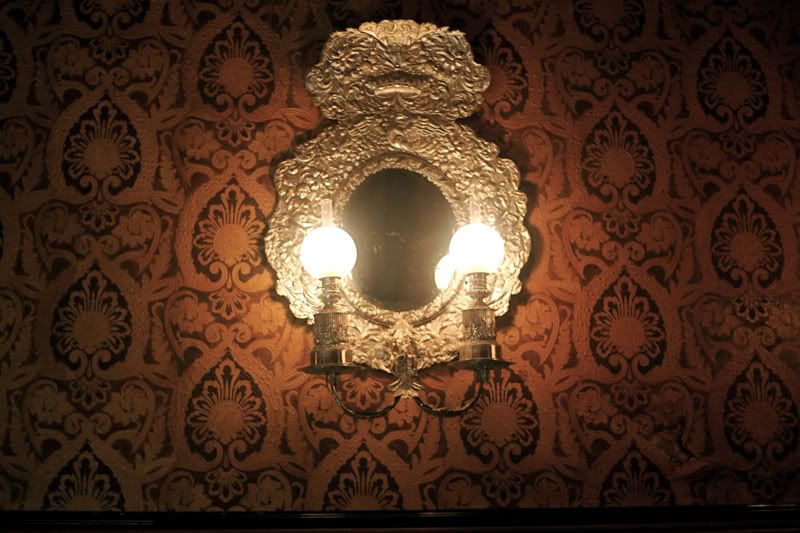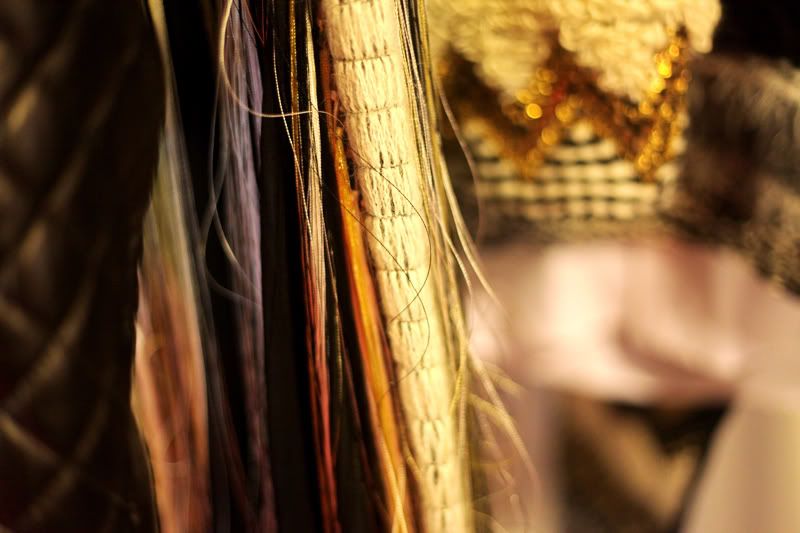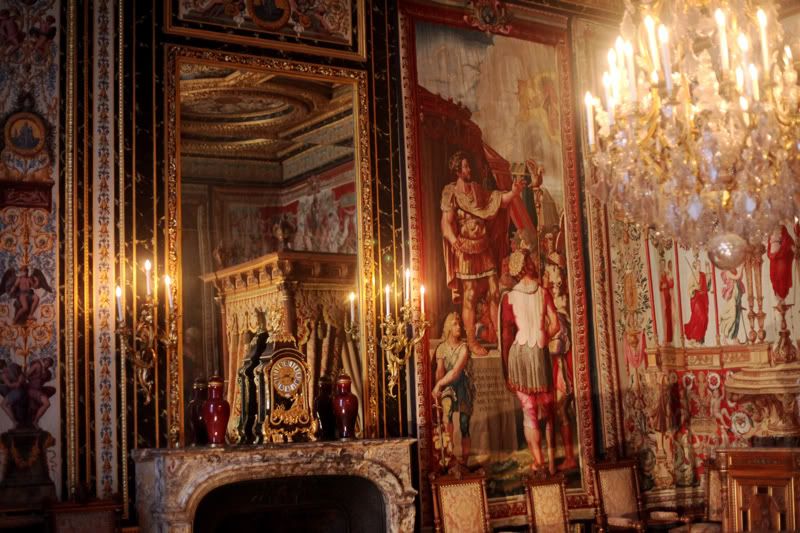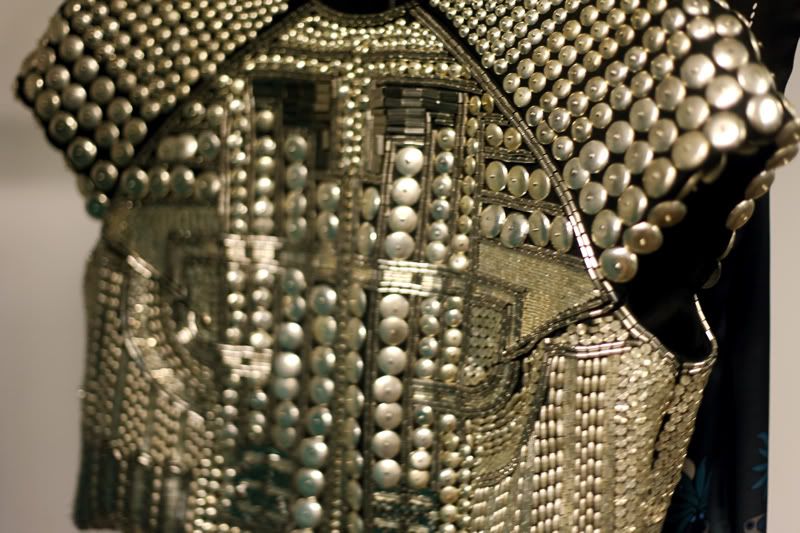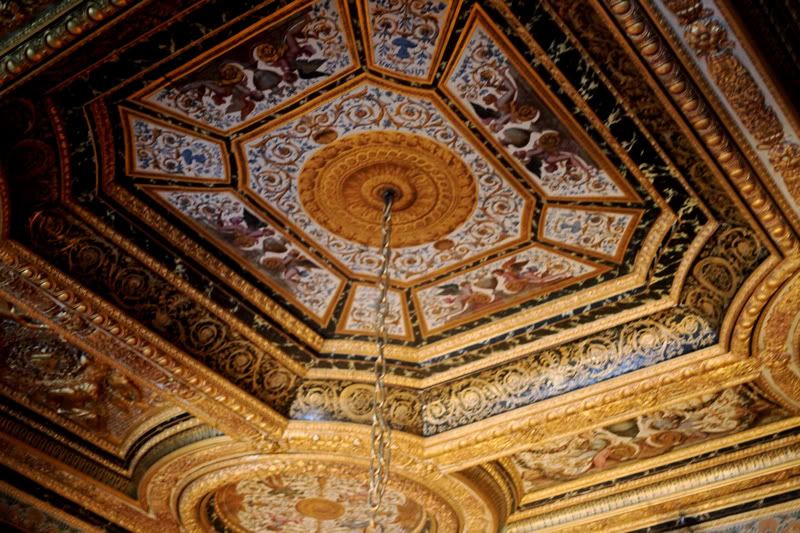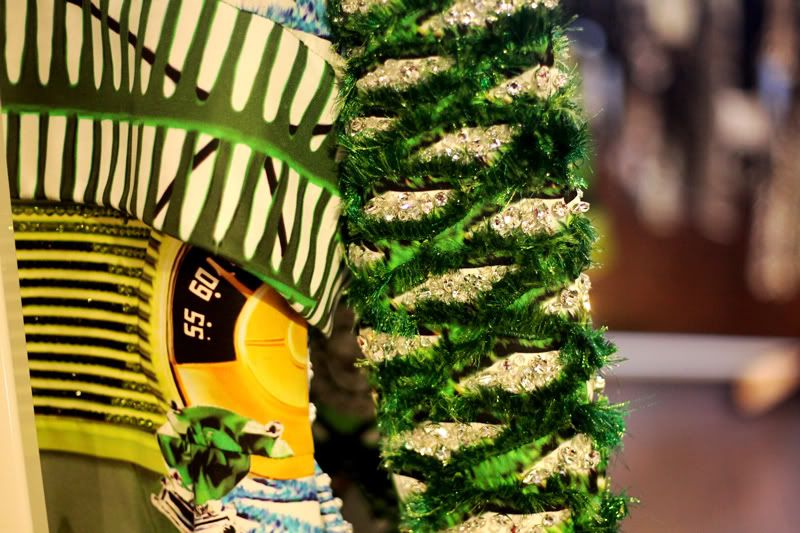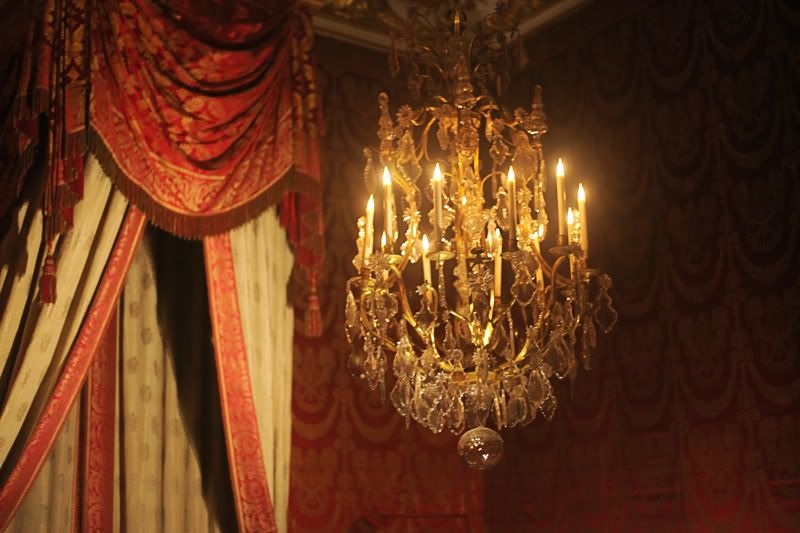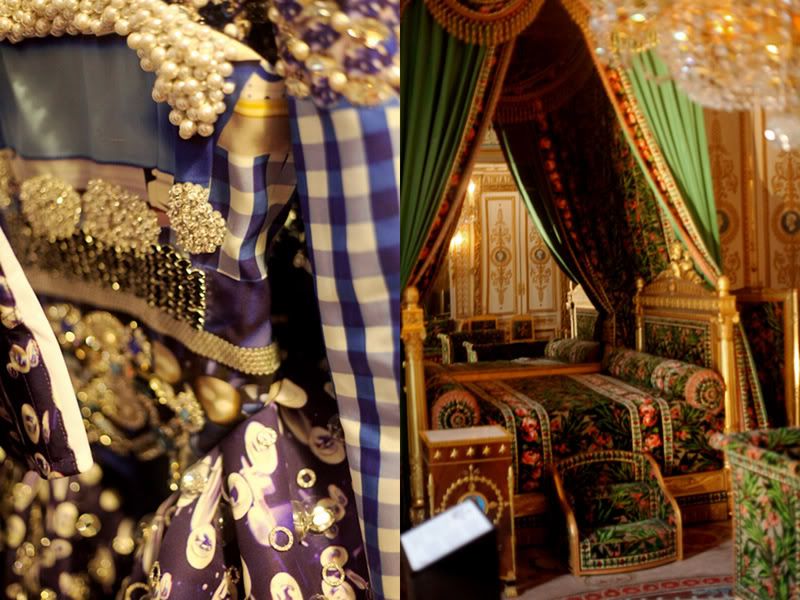 Detail shots from James Long, Mary Katrantznou and Louise Gray's collections.