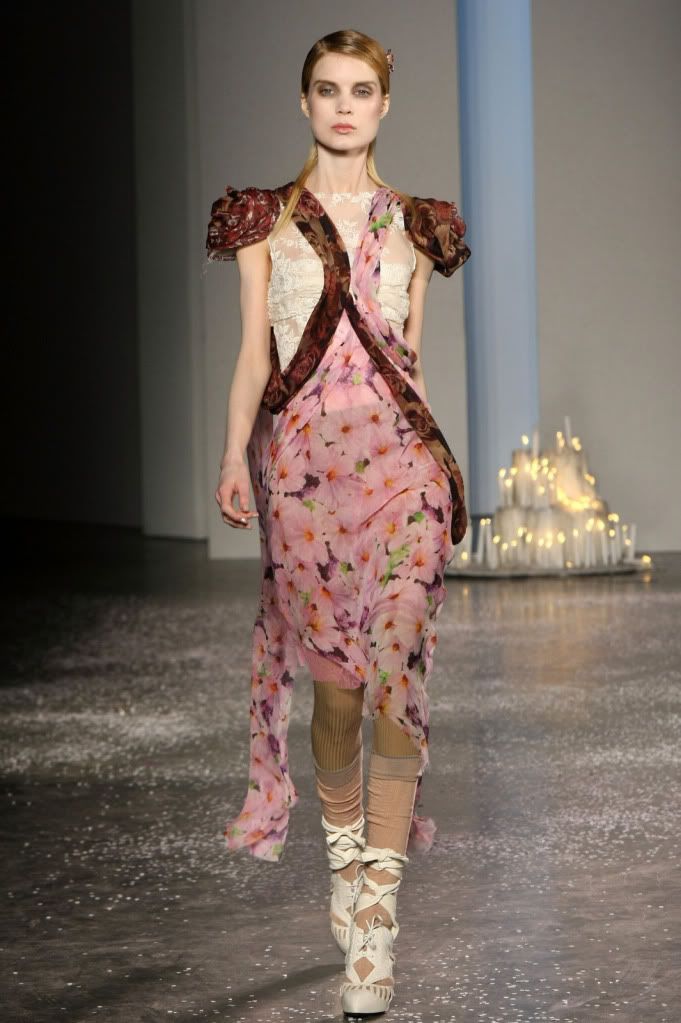 'Granny's laundry basket' at Rodarte A/W 2010
I've been keeping an eye on the New York A/W collections being presented this week, and normally I would post some commentary, but there has really been nothing that has given me even a twinge of excitement, let alone blown me away. I find that American fashion tends to play it rather safe, and as a dedicated fan of all things bright and beautiful, sequinned, shimmery, theatrical and pretty much downright crazy, the sea of black and grey 'basics' that have been turning up on the catwalks of Alexander Wang, RVCA et al just don't get me buzzing.
Halston (designed by Marios Schwab) presented some jazzy jewel-tone dresses, but the funny wrap-styles seemed a bit homemade, and not a patch on the Jerry Hall-esque glamazon looks the label is so infamous for. Some journalists have been raving about the Rodarte collection, but I found the haphazard selection of florals and wooly bits a bit random, as if the models had been dunked into granny's laundry basket, and then hurriedly pushed out onto the catwalk. Zac Posen showed some very glamorous 70s socialite pieces in gorgeous purples and amber yellows, and the deep raspberry pink velvet dresses were just delicious. As a purveyor of personal style over high-fashion, I'd say his was the collection that came closest to being something I'd buy into. (In my dreams ha.)
It has been a while since I got excited about an entire season of fashion offerings. I think the last time was the A/W 2006 collections (
that
glam-rock Gucci collection I will never forget). The whole international fashion tribe seems to have sold out to Vogue Paris Editorial Chic ...all black leather, spike heels, architectural shoulders and body-con. Clogs at Chanel were a huge controversy this season (
they won't possibly go with my PVC leggings!
) Designers like Alexander McQueen (Rest in Peace) are few and far between, coming up with something completely off the wall and simply crazy-beautiful every season.
Let's hope we see more promising inspirations from London and Paris.
So, on the theme of New York, I leave you with a long lost editorial which I just adore. Fresh, spontaneous, fun Kate, and not a PVC legging in sight!