Decarnin does it again. Another sublime, rock 'n' roll- fierce collection paraded on an army of the cream of the amazonian crop.
Well, he had to. The entire high street market almost hangs on his every pair of acid-washed holey jeans. You can just picture it; The Balmain S/S 10 collection was unleashed on the world yesterday evening in Paris, and already two thousand chinese hands have been set to work with brushed gold sequins, metallic rayon and...bullets? 'Leather loincloths?" "What on
earth
?" they may be thinking, unaware that whatever Daria, Eniko and Anja wore last night is going to determine Topshop's accounts for the next four months. Ask your average high street buyer on Oxford Street and they'll have never heard of Christophe Decarnin, or Balmain, but no matter; she'll stil be wearing his knock-off lace-up boots and distressed skinny jeans.
I wonder, are we looking at investment pieces here? Will we still be coveting Balmain's corset-like satin tuxedo jackets and sequin breton tops in years to come? Or is this just a recession-based, frenzied desire for gold sequins at the office and a revival of shoulder pads simply '
p
eacocking
'?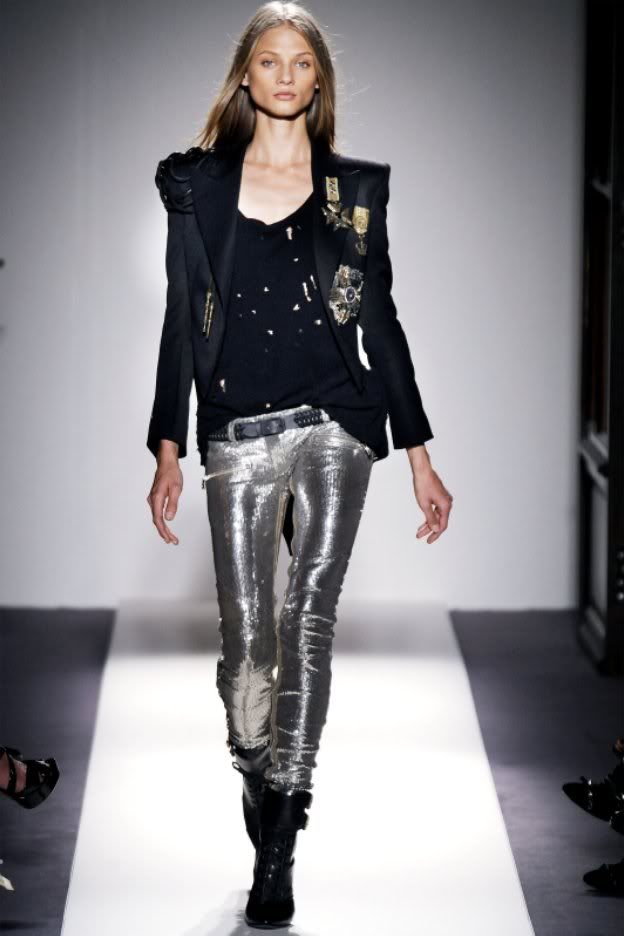 N'importe quoi
. The clothes are beautiful, the models scorching. And
Daria
is back on the catwalk. Will we see Carine in a bullet belt and loincloth tomorrow? And on a 15 year-old from Peterborough in February?
N'importe quoi
.