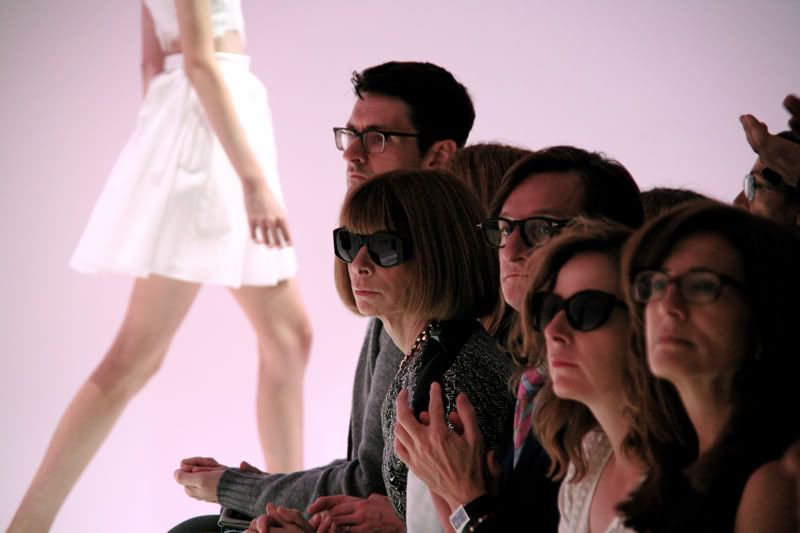 I was in Anna Wintour's eyeline for the Carven show. For such a small person, she really creates such a magnetic presence. Even the celebrity-spotting photographers were too timid to approach her.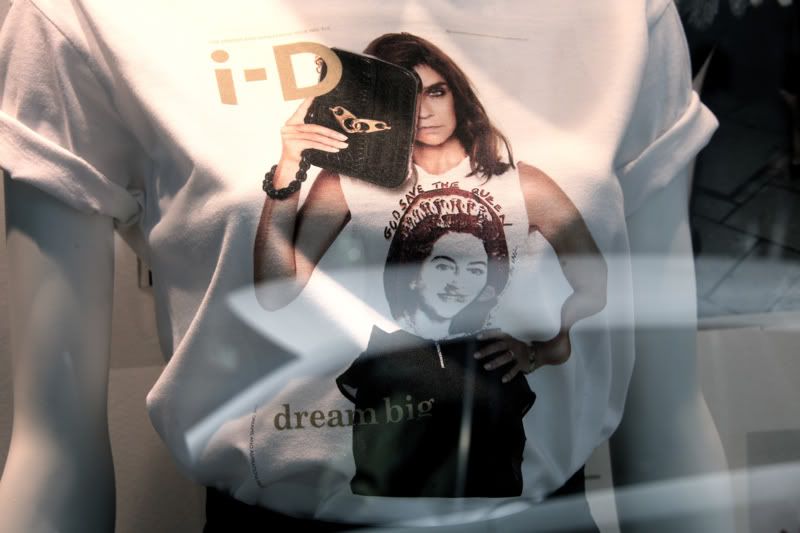 T-shirt in the window at Collette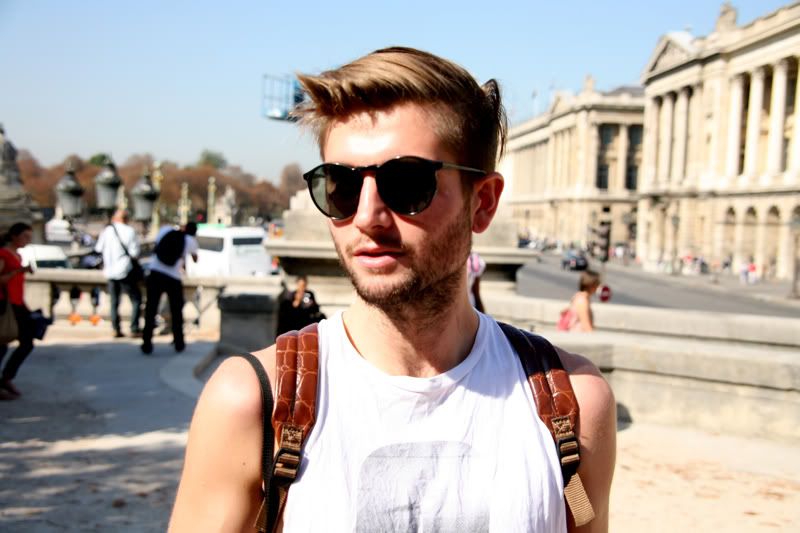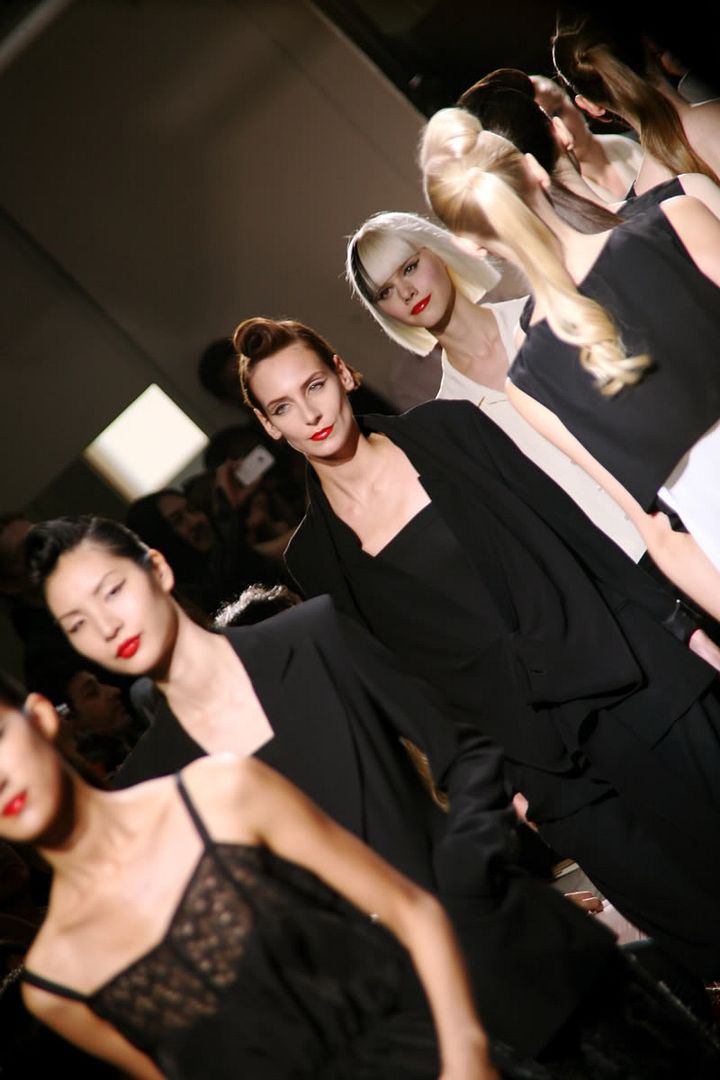 Rockabilly monochrome and bopping ponytails at the Limi Feu show. Read my show report for Notion magazine HERE.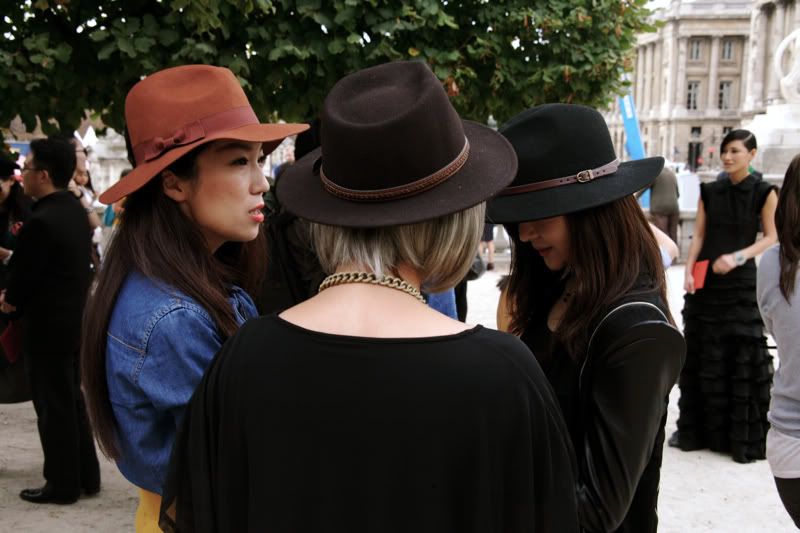 A trio of hats outside Shiatzy Chen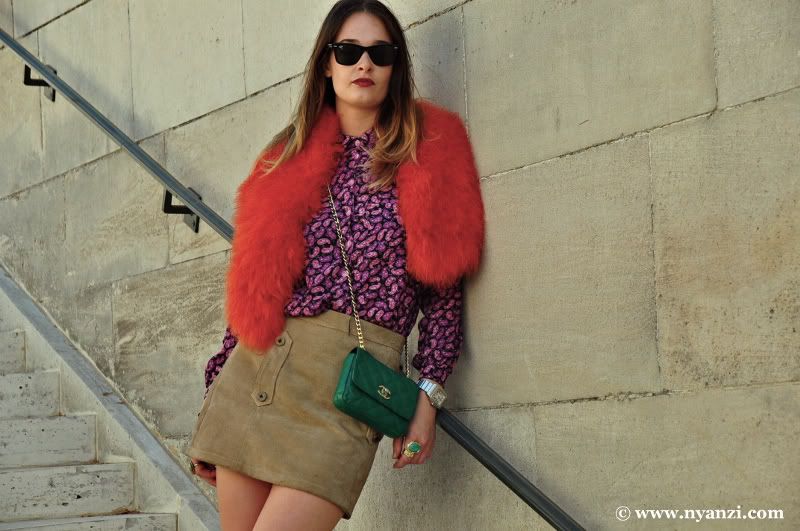 David Nyanzi snapped me outside the Anne Valerie Hash show on Day 4. It was so great to see him here, as he was the first person I ever met when I first went to London Fashion Week in September 2009, when we got chatting outside the Henry Holland show, as we were both totally new to the whole thing and it overwhelmed us. Back then, you could probably count the number of bloggers who went to fashion week off two hands. It's a different world now. Two years later here in Paris, I wore Zara orange fur, purple vintage paisley shirt, Suede skirt from Topshop and Chanel bag.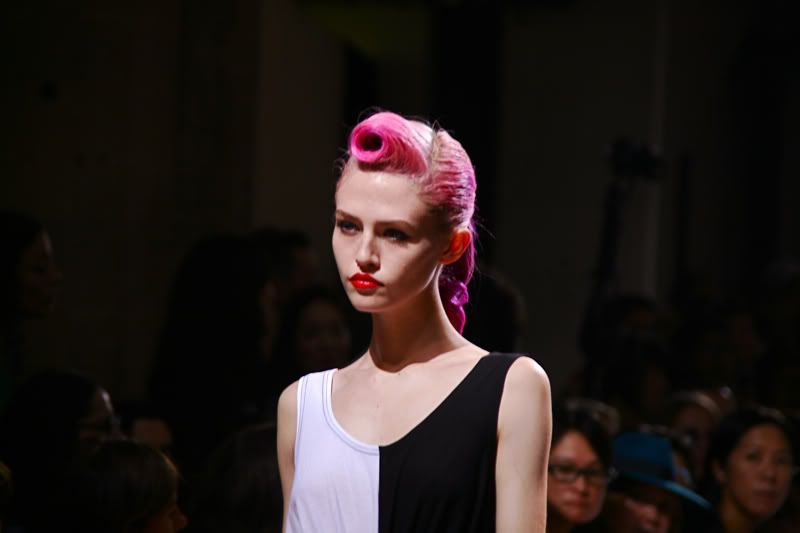 Charlotte Free walking for Limi Feu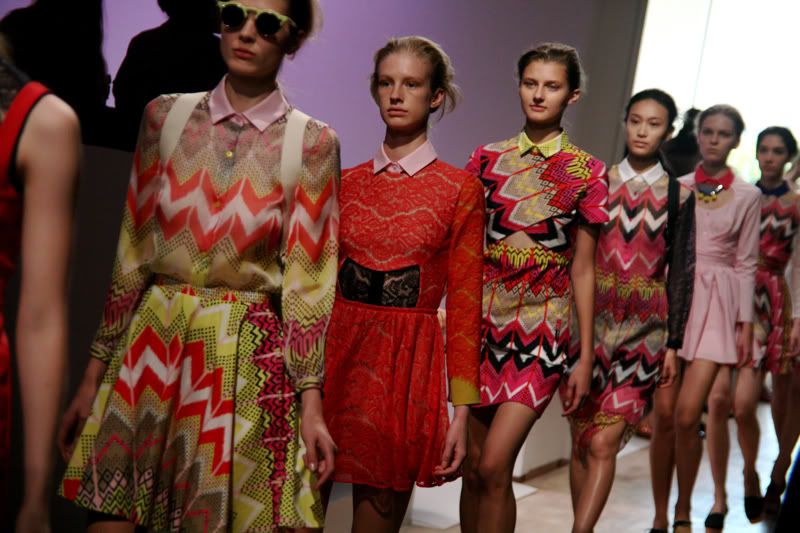 Colour explosion at Carven

I just didn't have any time to snap ay streetstyle this time round, but just as I was leaving the Tuileries I had to stop for this guy. ORANGE CORDUROY. I feel the bottle-green S.Pelligrino just adds to the look.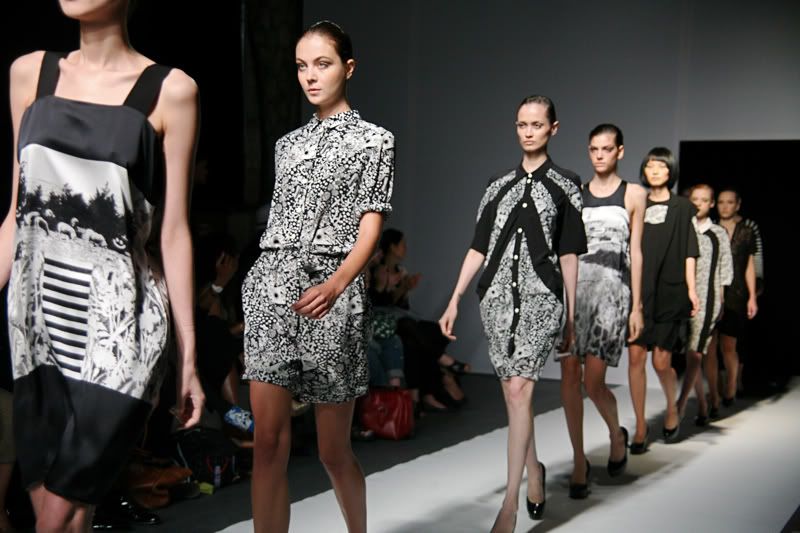 Final walk at Dévastée. Read my full show report with photographs for Notion Magazine HERE.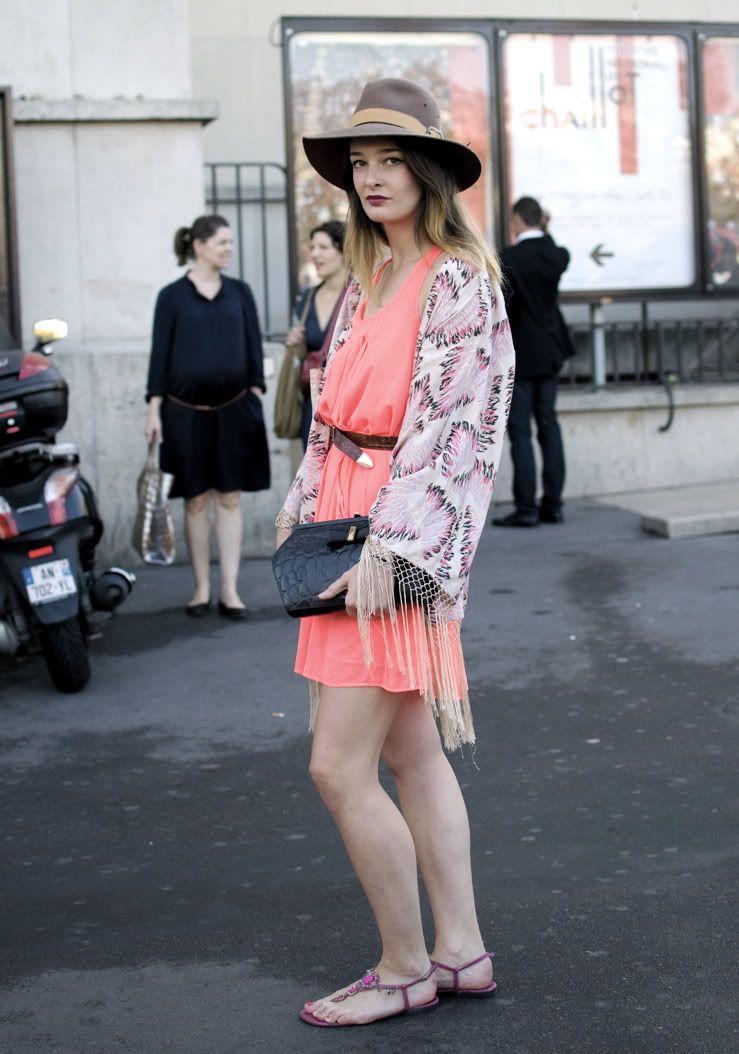 Dunja from Style Dissection snapped me on Day 6 outside the Akris show, dressed as a wannabe colonial. That morning I had been thinking about John Jannuzi's blog Textbook, and I half-unconsciously dressed with "What would Mrs. Moore* wear...?" in my mind. The kimono and safari hat are non-Indian themed pieces I accept creative license for.
*Mrs Moore is a character in E.M. Forster's novel A Passage to India. Unlike the other British Colonials, she has an instinctive understanding of the mysticism of the native culture which transcends racial barriers.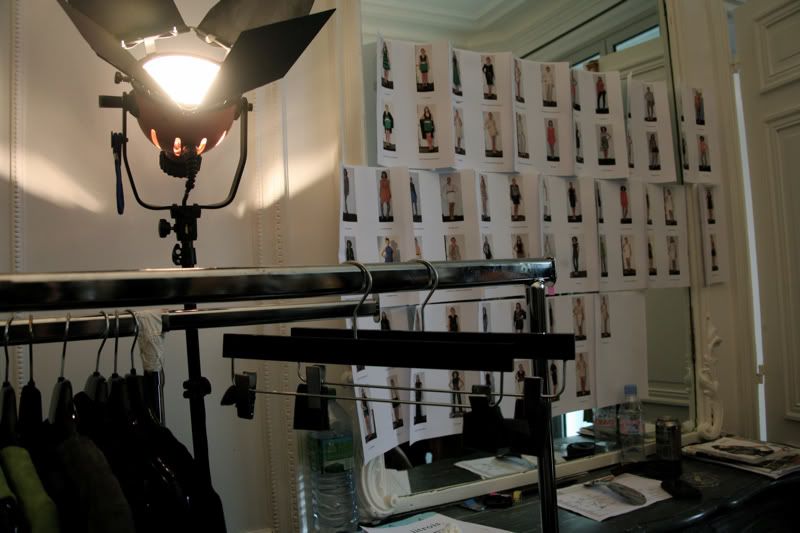 Behind the scenes at the Jitrois showroom overlooking the Tuileries, where I spent 8 days working solidly, popping to shows when I had a chance. It was fascinating and exciting to watch a fashion house prepare for the new season.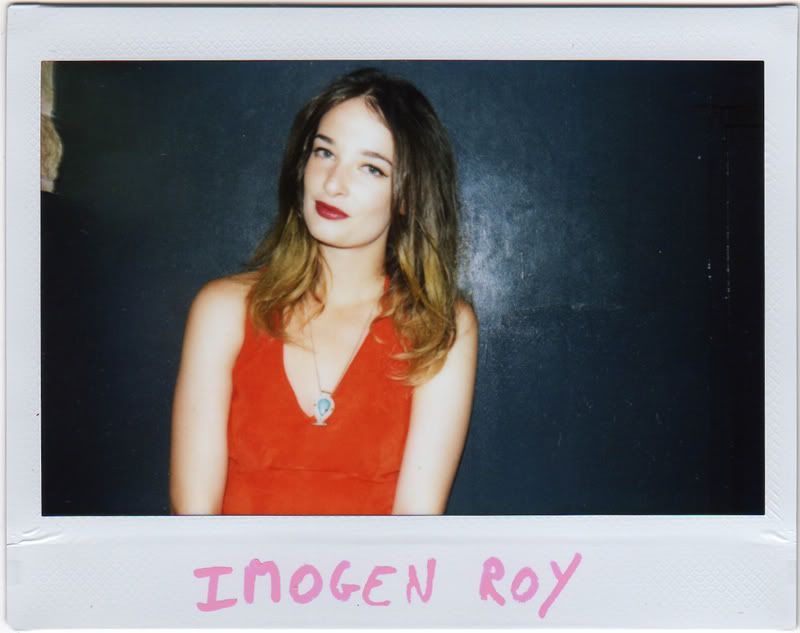 Polaroid taken by Cèdric for the Unknown Project at Cent Trent rue Rivoli, or was it the Citizen K party? It was the last day of PFW and my head was a mess. I'm wearing S/S 2012 Jitrois suede dress, kindly lent to me by the designer.