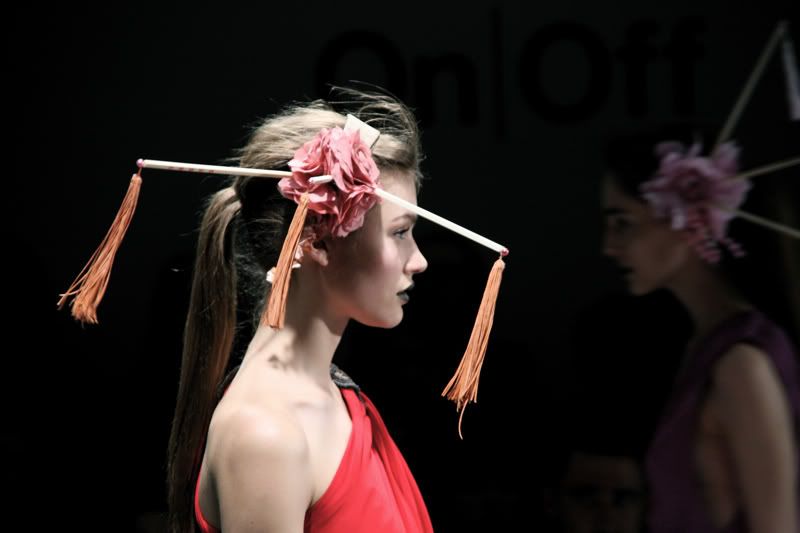 Ashley Isham was the last show I saw on Day One, bringing to a close 11 hours of non-stop show-hopping. The On:Off venue, one of my favourite places last season when it was in Victoria House, had moved into a sort of bungalow on Mercer street accessed through a polytunnel, and the whole week it was just chaos. There were at least 400 people behind me when I was turned away from the Jena.Theo show because it was at full capacity earlier that day, and every day long queues of freezing fashionistas suffering drizzle hair would wait and wait and continue to wait because they didn't have a yellow dot, or a red dot, or a blue dot on their ticket. Or one gold star? Who's got two gold stars? Anyone have a silver star? What's that? Superstar? Hey, I'm a superstar! SUPERSTARS!
So went the banter in the queues, but it wasn't enough to cure the extreme fashion fatigue. So On:Off and Blow PR, because I love your shows and I want to see you expand, FIND A BIGGER VENUE.
Ashley's show started promisingly, and I really liked the floral printed velvet dresses he sent down in looks 1-4. The print is fairly extraordinary, but it struck a chord with me because I'm sure when I was very small, my Granny had some left over stiff velvet floral fabric from the late 70s, and made me some dresses with it. Or perhaps it's similar to a fabric I remember my Mum wearing. Unfortunately, that was the last we saw of the velvet minidresses and then the collection started to stray a little too far into the BCBG Max Azria territory, but I concentrated on admiring the headpieces. I am definitely not one to turn my nose up at a headpiece made from plastic flowers and tassels that looks like it was bought for a child at a Chinese nightmarket
(see here)
. No, seriously, I
love
the tack.