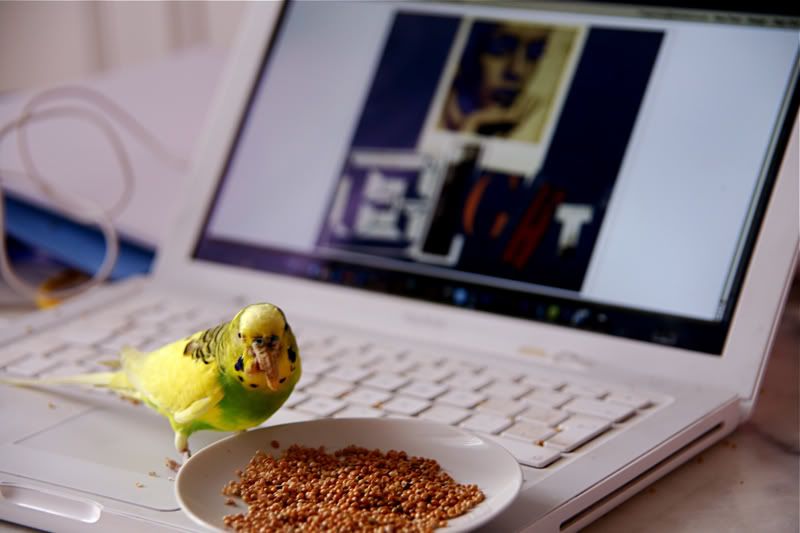 Yesterday I had my first -unexpected- visitor at my Parisian apartment: a budgie. He came hurtling through my 5th floor french windows without warning and proceeded to watch me from his perch on top of one of my framed 'Frisco '66' psychadelic posters, and then he came to sit on my laptop, staring quizzically in his birdish manner as I finished typing an article. Fortunately, Parisian grocery stores are pretty thorough in their stock taking, and it was surprisingly easy to procure tropical bird seed at 8pm on a thursday night. I was at rather a loss as to what to do with my guest. Hectic googling taught me both that budgies can cover vast distances in a short space of time and also that stray tropical birds become more common in Paris in August as cruel owners simply release them when they go on their 3 week congés d'été. I can't bear that sort of negligence. I've never been keen on caged birds, but to then free a caged bird into the wild where it will either starve or be eaten by a native bird is even more wicked. I put some 'found' signs around the neighbourhood, while
Perrouche
stayed the night in my shower, and was very well-behaved and quiet. Despite a horribly crooked beak, he is an exceedingly handsome fellow, and charmingly friendly. He perched on my hand to eat seed and was very contented hopping about in my wardrobe this morning. It was a comic delight to have a house pet, even for such a short time.
Yes, sadly,
Perrouche
took off this morning after breakfast, just as the sun was beginning to melt away the cover of grey clouds. I still imagine I hear his enthusiastic chirping from my balcony, but he has truly gone.
I hope he is a happy wanderer, living la vie bohème of Paris, dropping in on girls all over the city's rooftops every evening and then brazenly taking off after breakfast without so much as a 'bisous'. I've left some seed out on the balcony in case he ever passes this way again. Farewell, Perrouche!