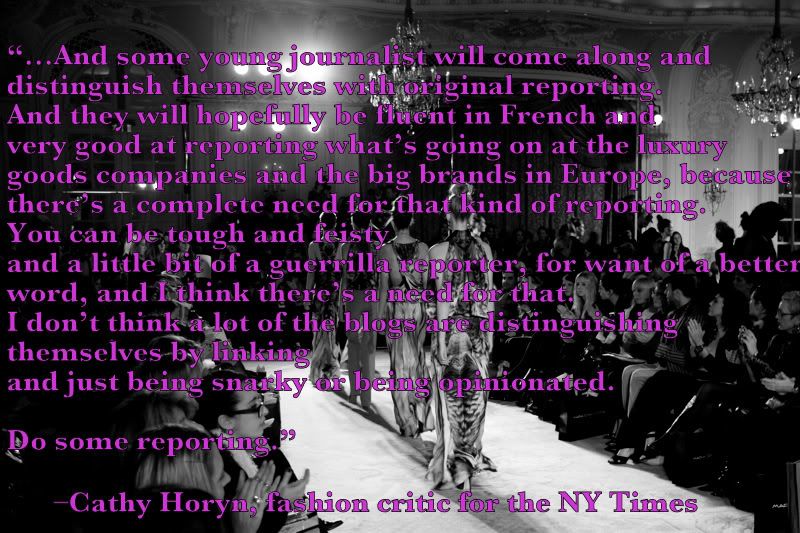 I'm glad I came across this interview with New York Times fashion critic and esteemed voice-in-fashion Cathy Horyn today because it's reminded me why I started this blog and it makes me realise that I've become a little distracted. Essentially this blog is my portfolio to show the industry how much I want to be a part of it. I know that
at some point
I want to be a fashion writer. It may not be my career in fashion from the beginning, nor may it be what I do forever. (I fancy myself as a bit of a slasher, i.e. a writer/stylist/consultant/designer – aren't I typical of my greedy generation? We really want it all.) I am disappointed that I'm not able to go to London Fashion Week and attend shows and practice my reporting skills next month, but this season I'll be based in Paris working for a brand presenting a show, and it will be fascinating to be 'the other side of the catwalk' so to speak.
There is also the issue which I have debated recently, and indeed which

Cathy brings up in her interview,

of originality. I'm constantly concerned with the question of "what can I do to try and keep ahead of the game?" And I've made my own conclusion that perhaps going to LFW like I've always done, and standing outside the big shows and taking pictures of strangers' clothes along with the other bloggers –whose numbers grow season upon season– probably isn't being very original. It's become a bit of a circus, and as the 'obnoxious blogger' grows as a public character, its an association I want to distance myself from as far as possible. It's become cringeworthy, queuing for a show and realising that some of the biggest -and seemingly undeserving - egos in the industry belong to 'bloggers'.
Not being at LFW, those 10 days a year upon which an unabashed 6 months of my blog content hangs, will definitely be a challenge to my reporting skills. But I think I'm in need of a challenge. I've had it too easy. When I think of all those hundreds of thousands of girls and boys, writing beautiful fashion prose from their bedrooms in the depths of a continent that fashion forgot, scarcely having access to a
Vogue
magazine and only imagining they could ever be invited to
a real life fashion show
, I owe it to them.
And here's more food-for-fashion-thought from Cathy. At least I've learnt french - it's a start!
"Be original and start your own blog and do real reporting and learn French. Be a reporter. Don't be a re-blogger."